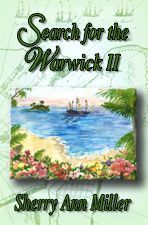 Search for the Warwick II
Proving once and for all why she is known as the writer of miracles, Sherry Ann Millerís absorbing sequel, Search for the Warwick II, concludes the search for John Dunton's son who is enslaved in 1630's Algeria, where a generous reward has been offered for John's capture. Now, John must not only find Thomas, he must avoid recapture while he and his devoted crew attempt to outsail and outmaneuver a horde of evil pirates. Nothing else matters to John or his men . . . not even their own lives.
Granite Publishing ISBN# 1-932280-95-2
Search for the Warwick II
Sneak Peek:
Chapter One
Itís the twenty-sixth day of January, 1638, and Iím ten and one-half years old today, thought Thomas Dunton as he scrubbed the forecastle deck with salt water and a stiff brush.
Hard, physical labor had changed Thomas in many ways. His knees had calloused over the past eighteen months, as had his young hands, which now looked more like an older seamanís than heíd ever thought possible. Stronger than the lad heíd been before his enslavement to Moorish pirates, Thomas knew his strength came from lifting heavy buckets of seawater up from the waterline day after day, and scouring the decks of El Djazair, a sixty-four-foot square-rigged sailing vessel upon which he was confined.
Thomasí lean body, now resilient and agile, had learned to step quickly out of the way of the taskmasterís whip or the grasp of a jealous seaman. Heíd also developed a discerning mind, able to look ahead with caution and astuteness, which came from always trying to outguess what his master would want him to do next, before Captain Abu even asked. These qualities had earned him a place far better than the average pirateís slave. Good food and plenty of it, adequate rest, and a generous amount of trust had been his ever since heíd been sold to his present master, Abu Benjamin El Djazair, at Algeria a year ago.
Has it really been a year? Thomas wondered. Although each day waned along slowly, when he looked back at the accumulative hours, he was surprised at how fast his time in Algeria had passed. Heíd spent most of that time slaving for Abu upon the Mediterranean Sea. Twice theyíd sailed through the strait of Gibraltar and up to the Bahia de Cadiz in Spain, where Abu traded his slaves for wine, fine linen and other marketable goods.
When not actively engaged in doing something requested by Captain Abu, Thomas forced himself to find something to do that would please his master. Whenever he found a spare moment, his thoughts turned to those slaves less fortunate than himself, and he aided them if he could. However, his first consideration was to please Captain Abu, for he knew that if he failed, he would be sold to someone less likely to appreciate his efforts.
During the past year, Thomas arose before dawn every day, offered silent prayers unto God, then began the strenuous labor of hauling buckets of saltwater and scrubbing all the exposed decks. Many times he would finish before Abu awakened. Thomas had never been assigned to clean the shipís decks. This was a task he had chosen on his own, to please his master. The first to work and the last to sleep, that was Thomasí motto. His diligence had earned him a trustworthy place among the shipís crew, and far less punishment from Master Abu than the other seamen-slaves around him.
Rumors among Master Abuís men spread quickly, and Thomas had learned there was a price on his fatherís head. The pirates blamed John Dunton for King Charlesí invasion of Salť last year. His fellow slaves liked to taunt Thomas, telling him that John Dunton would never come for his son while the risk was so great to himself. Thomas refused to believe them. He knew that if his father was still alive, he would do whatever he had to do in order to rescue him. Thomas vowed he would be ready for the moment his father arrived to release him from bondage.
Thomas had also learned that his masterís son, Benjamin, had passed away twenty years ago, when he was about Thomasí age. Sometimes Thomas thought Captain Abu looked upon Thomas as his surrogate son. This could only help Thomasí by affecting his masterís leniency. Thomas would give him no cause to complain. By his shrewd attention to details, without being told what to do, Thomas had already earned a favorable position aboard El Djazair.
This morning the air was crisp, almost cold, and Thomas wished he still had his motherís cloak to keep him warm. Then, he dismissed the thought with a shrug. Her cloak had gone to someone in greater need than he, and Thomas would keep warm by staying busy. With more vigor than normal, he pushed the brush forward, then pulled it back, over and over again, until the deckís wood had that familiar sheen to it that impressed Abu so much.
As he scrubbed the shipís decks, Thomas continued thinking about his parents. He did not know where they were, or even if they were still alive, for they had been captured by the pirates the same day as Thomas. But, his heart held a perpetual prayer that they would find a way to free themselves from their own captivity. If they could, he had no doubt that they would then rescue him from his enslavement.
These secret hopes were all that sustained Thomas. Even in his darkest hours, Thomas prayed continually for his parentsí escape. Only after considering John and Rebecca Duntonís needs, did Thomasí prayers turn to himself. Then, his pleas to Heaven turned to an eventual rescue from his life of toil and tyranny.
Purchase
Search for the Warwick II
at your favorite booksellers and read the rest of the story.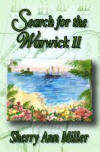 The Warwick Saga
Historical fiction at its very best!
Complete in two books.
Search for the Bark Warwick
Beginning with the stowaway who interrupts and changes Johnís life forever, and concluding with Johnís desperate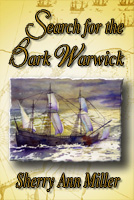 search for his captive son, Thomas, this historical novel, based loosely on a true story, is a stirring tale of surprise, compassion, love and tenacious devotion to family. The story of a genuine hero in 1630's England, Search for the Bark Warwick will keep you on the edge of your seat, and leave you begging for more.
Granite Publishing ISBN# 1-932280-33-2
* * * * * * * * * *
If you'd like to Email me with your comments about either of the books above, please put the title in the subject line. In order to qualify for consideration in my FREE BOOK offer, you must include permission to publish your comments and your postal mailing address. Send Emails to:
Sherry Ann Miller "writer of miracles".
Copyright © 10 Jan 2006 by Sherry Ann Miller. All rights reserved.
Webmaster: webmaster@sherryannmiller.com