Books coming in 2007:
coming in April 2007
Mama's Lemon Pie ~ a celebration of motherhood ~
coming in April 2007
coming in August 2007
* * * * *
New Releases:
My Books:
The Refiner's Gift coming in 2007
Love Notes:
Scottish Legend coming in 2007
Other Books:
* * *
Mama's Lemon Pie online version
My Story
As a young woman, I wanted to have a dozen children, but the Lord had other

plans for me. He generously gave me four sons and three daughters. Inheriting four new daughters and three new sons when my children married has been one of the greatest joys of my life. Watching each couple become parents and hone their own parenting skills is such a delightful and insightful phenomenon.
I am known as "Grandma" to twenty-seven beautiful grandchildren, ranging in ages from twenty-two years to five months. My family is a very important part of my life.
My one true love has always been my hubby, Frank Miller. We've been married over forty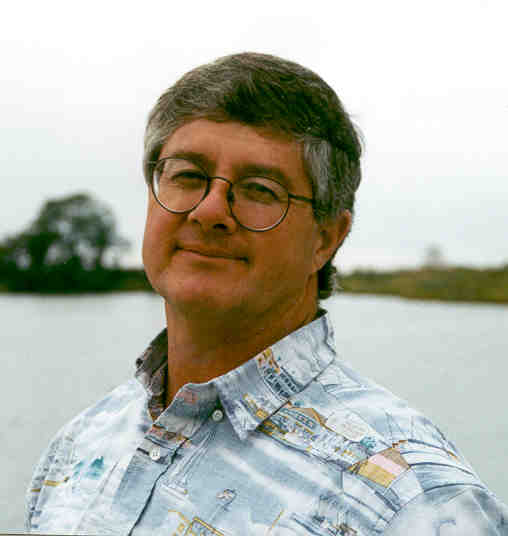 years and still loving every moment. He is my mentor, confidante, sounding board, sweetheart and eternal companion, and the Captain of my destiny. My life would be incomplete without him.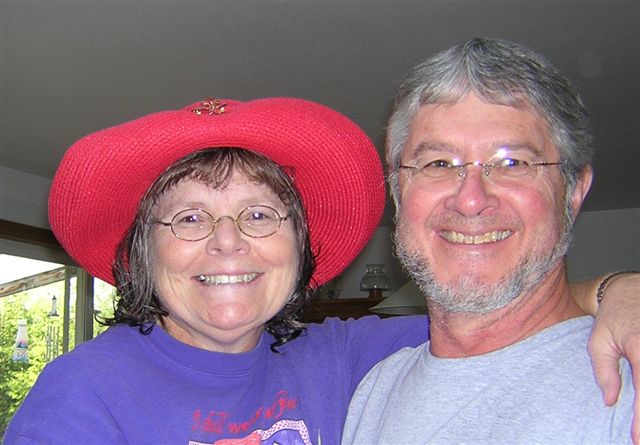 Before health issues forced me to retire from the work force, I was the book keeper, accountant, parts-chaser and girl-Friday for my husband's business, Frank's Auto, which is now run by our son, Sean, in North Ogden, Utah. My latex allergy and asthma, along with other medical problems, prevent me from attending my church meetings as often as I would like, and to make up for my lack in attendance, I have thrown my life into researching, submitting and publishing the genealogical and historical data of my ancestors. This activity has rewarded me so much my "cup runneth o'er."
I am an optimist by choice, a genealogist by addiction and a writer by genetic composition. My writing credits include eight published novels (soon to be eleven), several full-scale musical productions (most of which I also directed), five published family histories, numerous one-act plays and road shows, and three screenplays (two were semi-finalists in national competitions, and one was optioned). In 2004, my novel, An Angel's Gift, placed first in the prestigious Write Touch Readers' Award, which also tied for first place in the national Beacon Awards for Published Authors.

A member of Romance Writers of America (RWA) for many years, I have watched with delight as America finally embraced inspirational romance after a long season of spiritual drought in the romance genre.
I am also an active member of LDStorymakers, the backbone of the LDS authors' networks. Other important associations to which I belong include the inspirational outreach group for RWA, Faith Hope & Love (FHL); the Hearts of Denver RWA; LDS Romance Writers; Latter Day Authors; LDS Fiction Readers; Finish the Book, an outreach group of FHL; the New England Historic, Genealogical Society (NEHGS); and several other New England and Mennonite Genealogical and Historical groups.

When asked how I write "men" so well, I confess I survived growing up with six brothers who teased me unmercifully, and I raised four sons. Rascals all, but you gotta' love 'em!
My hobbies include sailing, fishing, crabbing, marine biology, family history & research, photography, reading, collecting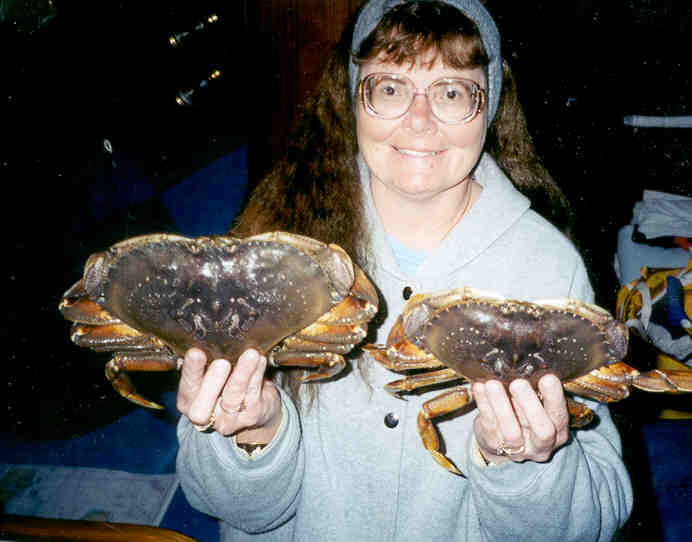 cookbooks, baking and crocheting. Photo to the left are two crabs I caught in 2002, one legal size and the largest crab I've ever caught (over nine-inches).
We (hubby and I) frequently go sailing. The photo below and to the right was taken aboard our 1982 - 36' sailboat, the Shoosey-Q, a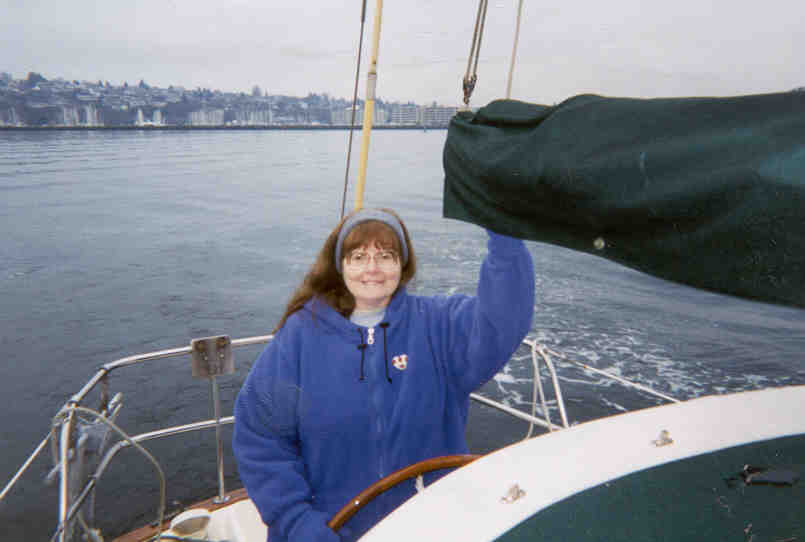 beautiful Cape Dory, on our maiden voyage across Puget Sound in December 1999. We love to sail in Port Townsend Bay, where the wind comes up most afternoons. We've also enjoyed sailing to the San Juan Islands, across the Strait of Juan de Fuca from Point Wilson in Washington State. Twice we have sailed the inland waters of British Columbia, Canada, around the Gulf Islands and as far north as Toba Inlet and Desolation Sound. When the 2005 season ended, hubby and I had both accumulated enough sailing hours to qualify for our Captains' Licenses (now if we can just gather enough courage to take the USCG exams). Regardless whether we become licensed Captains or not, we hope to continue sailing into our twilight years.
When I am not hobbling around the beach near my Port Ludlow home (or ANY beach really), where I love to study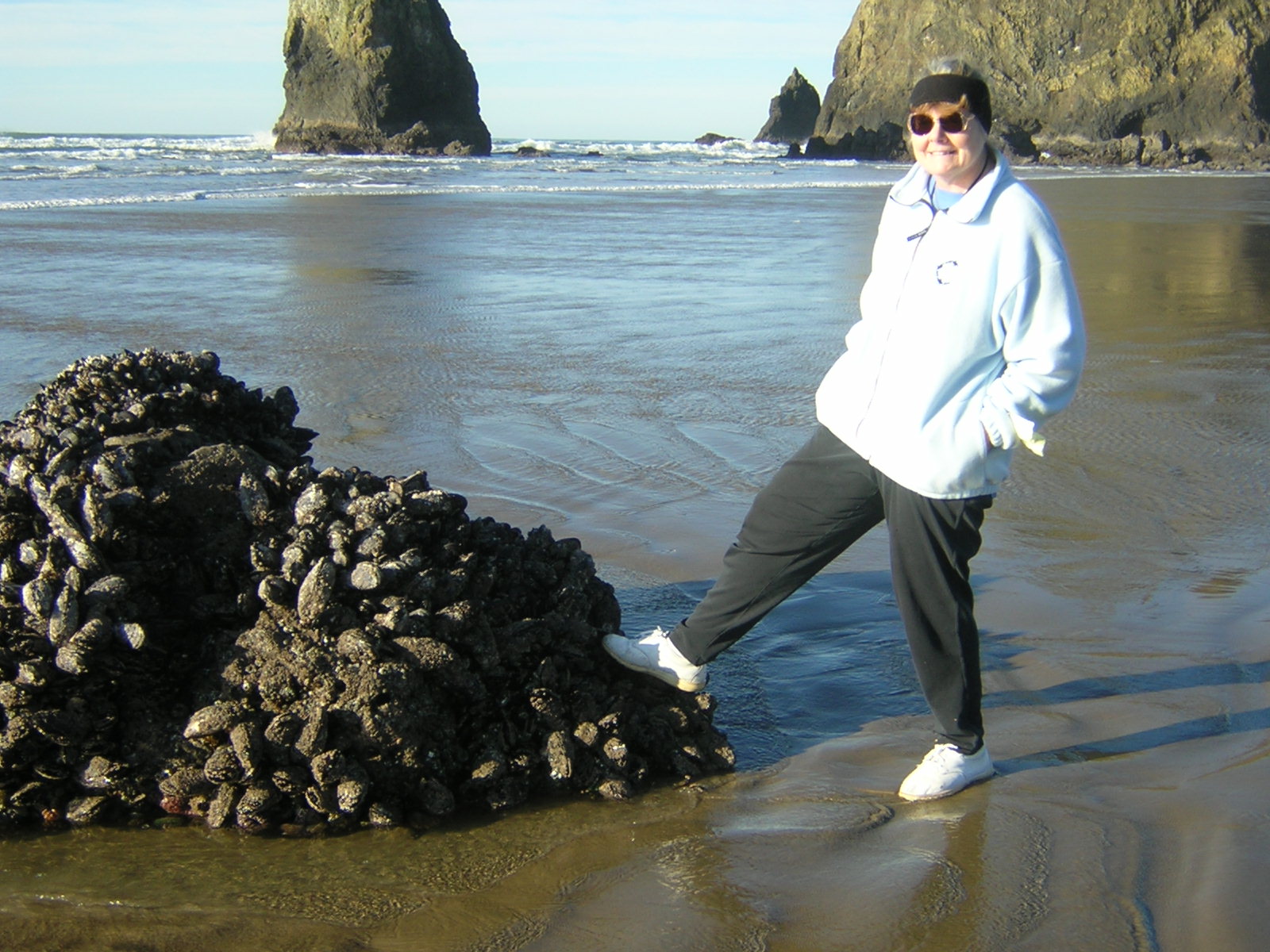 marine life (look at the size of these mussels on the left compared to the size of my shoe) and gather seashells, I can be found in my library, researching and writing family histories, or writing my popular, award-winning novels.
By writing miracles that foster hope and belief in a caring and loving Father in Heaven, I hope to teach my readers " . . . with God, nothing shall be impossible" (Luke 1:37). It is only natural to include miracles in my stories because I have lived from miracle to miracle all my life . . . from the moment of my birth to the present day.

I especially enjoy corresponding with my readers. Your E-mails are my daily highlights! Please write to me at sherry@sherryannmiller.com
Sherry Ann Miller "writer of miracles".
Copyright © 10 Jan 2006 by Sherry Ann Miller. All rights reserved.
Webmaster: webmaster@sherryannmiller.com