Charity's Gift
Now available at your favorite bookseller.
When Hans comes face to face with a ferocious shark, it strikes less fear than vivacious and attractive Charity Blake, who throws his heart into a spiraling nose-dive deep in the Pacific Ocean. The only way he can salvage their crumbling romance is to find her missing father, who's been absent from Charity's life for more than twenty-five years.
Charity's Gift
. . . it will touch your heart forever.
Charity's Gift
Sneak Peek:
Chapter One
"Shark!" yelled Tom from the swim platform, as he scrambled atop it and swung his legs out of the water.
Hans saw his companion's fins raise above the waterline moments before the sleek blue shark reached him. He didn't know whether to be grateful or fearful, for now the blank-eyed animal would turn its attention toward himself.
They had been filming dolphins moments before, but when the dolphins fled, Hans knew something was wrong. Unable to see the keel of Bridger, Hans' Hallberg-Rassey sailing vessel, from his position underwater, he had just surfaced to watch a dorsal fin swishing quickly toward Tom, who had been tethered to the swim deck. Tom had used his powerful arms to pull himself forward and reach the stern deck in time to avoid a disaster.
As his eyes widened in horror, Hans saw the dorsal fin swing around, and slice through the water straight toward him. Hans was nearly five hundred feet from Bridger and the only thing between him and the shark was the underwater camera held tightly in his hands. Hans would have to use this awkward piece of equipment as his only weapon. As the shark approached, Hans swung the camera forward with all his strength, banging the lens against the shark's snout as it charged him. Then, Hans swirled around so his back was toward the boat, and began kicking his way toward the stern's platform.
Hans swallowed a lump of fear that had risen in his throat, and finned his way backward toward the swim deck, a prayer in his heart that the Lord would help him keep the shark away long enough for Tom to snag him from danger. The shark circled three times, and each time Hans spun around, keeping his eyes on the shark at all times.
Charging Hans a second time, the shark came in for the kill, but Hans used the camera again to butt the shark sharply on its snout, which now started to seep blood. Great! That's just what I need. Blood in the water. That will bring all the other sharks within a three-mile radius. With bold determination, Hans thought, I have to reach the boat, or it'll soon be over for me.
Trying not to panic, Hans watched the shark as he continued to work his way back toward Bridger. Hans' eyes did not stray from the streamlined animal that obviously wanted Hans for supper.
With its snout now bleeding, the shark became angry. It darted straight for Hans several more times, trying to get between Hans and the camera, but Hans' reflexes were excellent. Adrenalin quickened Hans' reaction time. When he heard the slapping of the water behind him, he knew the swim platform was close.
Tom yelled, "Just a little farther! Hurry!"
Purchase Charity's Gift, fourth installment in the five-book Gift Series, at your favorite bookseller now,
and read the rest of the story!
_________________________
Introducing:
The award-winning Gift Series
You're going to love all five novels in Sherry Ann Miller's popular Gift Series. Each book will take you on the individual sojourns of Kayla Dawn Allen and the five men who have influenced her life for good: the Sparkleman boys, Ed, Abbot and Tom, who grew up with Kayla on the Bar M Ranch; and the seafaring Clark twins, Joshua (who loves Kayla more than life itself) and Hans (who is always one step behind in finding his soul-mate). Each novel will plunge you into a miraculous, spine-tingling journey about life, love, heartache and triumphant joy. If you've a thirst for suck-you-in adventure, drama, action and romance, you'll want to read all five novels, which can be read out of sequence without losing continuity. Don't miss a single volume in my award-winning Gift Series:
One Last Gift
Lovely Kayla is rescued from herself, her misguided infatuation with Ed Sparkleman, and even more desperate and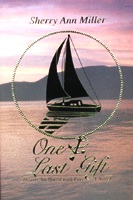 dangerous elements in the remarkable One Last Gift. Kayla's remarkable journey from her sailboat in San Diego to her childhood home high in the Uinta Mountains, finds her facing one obstacle after another, until she finally discovers God's mighty miracles are all around her. At the miraculous and satisfying conclusion, you will be left with the question, "What about Ed?"
One Last Gift placed third in the national Beacons Awards for Published Authors, 2001.
Granite Publishing ISBN# 1-930980-01-9
An Angel's Gift
Ed Sparkleman meets his match when Alyssa drops in on the Bar M Ranch (literally!) and disrupts his life forever. As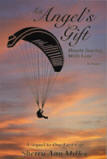 ranch foreman, Ed is responsible for keeping his men in order, but with Alyssa around, all the ranch hands begin to act oddly out of character . . .especially Ed. Is Alyssa truly An Angel's Gift sent straight to him from heaven? If so, what about his brother, Abbot?
An Angel's Gift placed first in the national Write Touch Readers' Awards, 2004; tied for first place in the Beacons Awards for Published Authors, 2004; and placed fourth in the Utah Heart of the West Competition, 2003.
Granite Publishing ISBN# 1-930980-98-1
The Tyee's Gift
Set in the picturesque Pacific Northwest, adventure meets Abbot Sparkleman when he discovers the greatest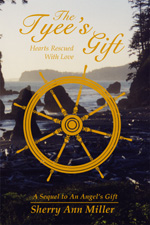 archaeological site of the century and falls in love with the beautiful and mysterious Bekah. The Tyee's Gift will bring tears of laughter, joy and heartache while Abbot learns where much is given, much is required.
Granite Publishing ISBN# 1932280758
Debuting in August 2007, The Refiner's Gift is the fifth and final novel in Sherry Ann Miller's award-winning Gift Series. Now in the editing phase, The Refiner's Gift answers the worrisome question, "What about Tom?" who was accused of a vicious crime in One Last Gift, the first book of the Gift Series. Because Tom Sparkleman has not yet escaped the true consequences of that vicious crime, the story will center on what really happened six years ago. Finally, the terrible truth of that heart-wrenching day will be made manifest. Expect an important shift in the dynamics of the entire Clark/Sparkleman families. The miracles that await Tom and the two clans in The Refiner's Gift will astound everyone!
* * * * * * * *
If you'd like to Email me with your comments about any of the books above, please put the title in the subject line. In order to qualify for consideration in my FREE BOOK offer, you must include permission to publish your comments and your postal mailing address. Send Emails to:
Sherry Ann Miller "writer of miracles".
Copyright © 10 Jan 2006 by Sherry Ann Miller. All rights reserved.
Webmaster: webmaster@sherryannmiller.com